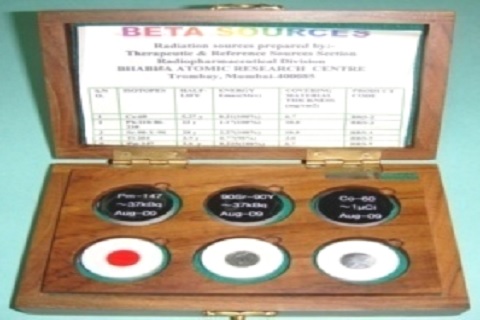 Low Level Check Sources:
Low level check sources are used for checking the efficiency of radiation monitors and instruments. It is also used for energy calibration experiments/studies  and as a tracer in well logging.
Note*- Source supplied under this category are not absolutely calibrated sources and hence no calibration certificate will be issued.
Procedure to procure low-level check sources from BRIT:
The application is to be submitted (separate application for each product code and quantity) in duly filled in the A-3 form (available in our web site http://www.britatom.gov.in/) along with specific source procurement authorization (NOC) obtained from AERB, through the e-Licensing of Radiation Applications (eLORA) System.
Points to be noted while applying for AERB NOC from eLORA System
Login to the Sealed source profile.
Under regulatory -> form sealed source -> Application for procurement.
Select the product as per the product models are given in the following list by confirming the make as BRIT and supplier as BRIT.
While filling the application the purpose of the use is to be mentioned as "check source ".
Beta Reference Sources-BRS*

| Sr.No. | Product Code | Radiation Sources |
| --- | --- | --- |
| 1 | BRS-2 | (Co-60) |
| 2 | BRS-3 | (Pb-210-Bi-210) |
| 3 | BRS-4 | (Sr-90-Y-90) |
| 4 | BRS-5 | (Tl-204) |
| 5 | BRS-7 | (Ca-45) |
| 6 | BRS-8 | (P-32) |
| 7 | BRS-9 | (Pm-147) |
| 8 | DS Dummy sources | - |

*BRS – Evaporated ultrasonically sealed Beta source at the centre of 25 mm dia X 5 mm (OD) thick plastic disc and covered with 3mg/cm2 mm thick aluminised mylar film. Active diameter:6mm.

Maximum Strength - 1MBq

Conversion Electron Reference Sources

| Sr.No. | Product Code | Radiation Sources |
| --- | --- | --- |
| 1 | BAC-1 | (Ba-133) |
| 2 | CEC-1 | (Ce-141) |
| 3 | CSC-1 | (Cs-137) |
| 4 | COC-1 | (Co-57) |
| 5 | SNC-1 | (Sn-113) |

Conversion electron sandwiched evaporated source between the suitable thickness of aluminized mylar film rings: mounted on 25 mm dia X 5 mm thick (OD) plastic disc, adhesive (epoxy) sealed source. Active dia: ~6 mm at the center.

Maximum Strength - 1MBq

Nuclear Medicine Reference Sources

| Sr.No. | Product Code | Radiation Sources |
| --- | --- | --- |
| 1 | COSM-3 | (Co-57) |

COSM-3 Cobalt-57 Spot Marker Source (Anatomical Markers)
Evaporated gamma point source adsorbed on ceramic bead: mounted at the center of 25 mm dia X 5 mm thick (OD) color-coded plastic disc, adhesive (epoxy) sealed sources. Active dia: ~ 2 mm.

Maximum Strength - 1MBq

Gamma Reference Source – Disc Type

| Sr.No. | Product Code | Radiation Sources |
| --- | --- | --- |
| 1 | GDS-1 | (Ba-133) |
| 2 | GDS-2 | (Cs-137) |
| 3 | GDS-3 | (Co-57) |
| 4 | GDS-4 | (Co-60) |
| 5 | GDS-5 | (Mn-54) |
| 6 | GDS-6 | (Simulated I-131) |
| 7 | GDS-7 | (Na-22) |
| 8 | GDS-8 | (Cr-51) |
| 9 | GDS-9 | (Hg-203) |
| 10 | GDS-10 | (Zn-65) |
| 11 | GDS-11 | (I-131) |
| 12 | GDS-12 | (Eu-152) |

GDS – Gamma Disc Source. Evaporated ultrasonically sealed gamma source at the center of 25 mm dia X 5 mm thick (OD) color-coded plastic disc and covered with 1mm thick plastic lid.Active dia: ~6 mm

Maximum Strength - 1MBq

Gamma Reference Sources – Rod Type

| Sr.No. | Product Code | Radiation Sources |
| --- | --- | --- |
| 1 | GRS-1 | (Ba-133) |
| 2 | GRS-2 | (Cs-137) |
| 3 | GRS-3 | (Co-57) |
| 4 | GRS-4 | (Co-60) |
| 5 | GRS-5 | (Mn-54) |
| 6 | GRS-6 | (Simulated I-131) |
| 7 | GRS-7 | (Na-22) |
| 8 | GRS-8 | (Cr-51) |
| 9 | GRS-9 | (Hg-203) |
| 10 | GRS-10 | (Zn-65) |
| 11 | GRS-11 | (I-131) |
| 12 | GRS-12 | (Eu-152) |

GRS – Gamma Rod Source.Evaporated source at the end of 12 mm dia X 100 mm length (OD) colour coded plastic rod: adhesive (epoxy) sealed source. Active dia: ~6 mm

Maximum Strength - 1MBq

X-RAY & Low Energy Gamma Reference Sources

| Sr.No. | Product Code | Radiation Sources |
| --- | --- | --- |
| 1 | BAX-1 | (Ba-133) |
| 2 | COX-1 | (Co-57) |
| 3 | FEX-1 | (Fe-55) |
| 4 | IOX-1 | (I-125) |
| 5 | SNX-1 | (Sn-113) |

X-Ray & Low Energy Gamma source at the centre of 25 mm dia X 5 mm thick (OD) plastic disc: adhesive (epoxy) evaporated sealed source covered with suitable Mylar film window. Active dia: ~6mm.

Maximum Strength - 1MBq

Alpha Reference Sources

| Sr.No. | Product Code | Product Description |
| --- | --- | --- |
| 1 | AMS-1 | Electrodeposited 241Americium α reference source upto 0.1µCi |
| 2 | PUS-1 | Pu239 α reference source upto 0.1 µCi |
| 3 | PUS-2 | Pu239 deposited by electroplating on SS plate of dim 0.15 cm x 10 cm With strength upto 0.1 µCi |

Electrodeposited on S.S. planchette of 25 mm dia x 5 mm thick.
Active dimension: 10 mm dia

Maximum Strength - 1µCi

Beta & Gamma Reference Sources Kits - Disc Type

| Sr.No. | Product Code | Product Description |
| --- | --- | --- |
| 1 | BDB-1 | Box containing a set of 4 Beta Disc(Pm-47, Co-60, Tl-204, Sr-90)Sources and one Dummy Source |
| 2 | GDB-1 | Box containing a set of 5 Gamma Disc Sources and one Dummy Source, Any five of the following sources: Ba-133, Cs-137, Co-57, Co-60, Na-22, Mn-54 |

Beta Disc Source: Beta Source at the centre of 25 mm dia x 5 mm (OD) thick plastic disc source holder with suitable window
Gamma Disc Source: Evaporated source at the centre of 25 mm dia x 5 mm thick (OD) colour coded plastic disc adhesive (epoxy) sealed sources. Active dia: ~ 6 mm.
Packing, forwarding & freight charges will be levied at actuals.

Maximum Strength - 1MBq

Beta,Gamma Hand Monitor Radioactive Spread Sources

| Sr.No. | Product Code | Product Description |
| --- | --- | --- |
| 1 | ASR 1 | Beta, Gamma hand monitor radioactive spread sources of Sr90 – Y90 (up to 4000 dpm) |
| 2 | ASR 2 | Beta, Gamma hand monitor radioactive spread sources of Sr90 – Y90 (> 4000 dpm) |

Maximum Strength - 1MBq

Low Level Industrial Sources

| Sr.No. | Product Code | Radiation Sources |
| --- | --- | --- |
| 1 | COSM-4 | Electrodeposited Cobalt-57 |
| 2 | ENI-2 | Electrodeposited Nickle-63 |
| 3 | EFE-1 | Electrodeposited Ferrum-55 |
| 4 | ECD-1 | Electrodeposited Cadmium-109 |
| 5 | BSTM-1 | Electrodeposited Tl-204 |
| 6 | PMDM-1 | Electrodeposited Pm-147 |
| 7 | PMDM-2 | Beta Source Pm-147 |
| 8 | ENI-1 | Electrodeposited Nickle-63 TLD sources |
| 9 | PCO-1 | Polymer radioactive film Cobalt-60 ("PIP" TAG sources) |
| 10 | EBAM-1 | Electrodeposited Ba-133 |
| 11 | ECOI-1 | Electrodeposited Co-60 |

All the above sources are Electrodeposited sources except C0-60 "PIP" TAG sources.

Dimensions: # Co-60 "PIP" TAG sources are Evaporated thin polymer sources with the activity distributed uniformly. + Packing, forwarding & freight charges will be extra as applicable.

Maximum Strength - 1MBq
Contact :
Jacob Sebastian
 DGM,Sales & Marketing (S&M) ,Board of Radiation & Isotope Technology
Project House, V.N. Purav Marg, Anushakti Nagar, Mumbai 400 094
9869454140 / (022)2556 5535 / 2788 7702