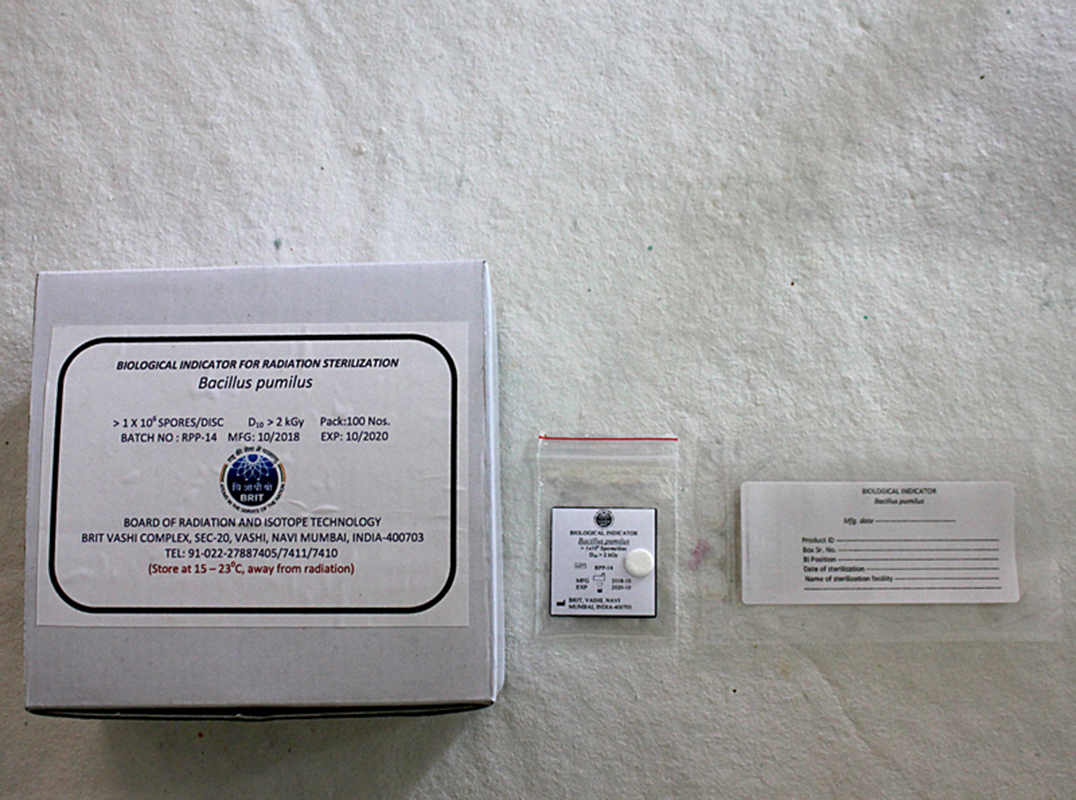 Biological Indicators (BI) are used as a Quality Control measure which helps in the monitoring of conditions necessary to kill a specified number of microorganisms by a given sterilization process viz. ethylene oxide sterilization, steam sterilization, gamma radiation sterilization.
BRIT offers BI which are prepared using spores of Bacillus pumilus ATCC14884 (as per US Pharmacopoeia specifications). These spores are highly resistant and are used to monitor efficiency of radiation sterilization.
Description:
Bacillus pumilus ATCC14884 spores impregnated on filter paper discs (1 million spores per disc)
Packaging:
Pack of 100 discs, sealed individually in polythene pouches
Technical brochure providing instructions for use
Sample of Report Sheet for recording Observations/ Results
Certificate of Analysis (COA) stating Average Spore Density and D-Value
Biological Indicator for Radiation Sterilization

Biological Indicator (BI) in the form of filter paper disc impregnated with more than one million spores of Bacillus pumils ATCC14884 are prepared at RPP, BRIT. These are individually sealed in polyminated pouches.

BRIT offers these Biological Indicators in unit pack of 100 numbers individually packed & sealed in polythene pouches

This also includes:

Technical brochure providing information on use & method of analysis.
Sample Report Sheet for the entering the Observations/ results.
Certificates of performance regarding the Average Spore Density & D-Value.

Regulatory status:

The use of BI is recommended in Gazette of India, 1988 for records for checking instruments and apparatus of sterilization. According to United States pharmacopoeia, xxi validation of sterilization process is to some extent predicted on BI rather than sterility test. British pharmacopoeia, 1988 recommends use of spores of Bacillus pumils NCTC 8241 (NCIB 8982, ATCC 14884), as BI for a minimum dose of 25kGy of gamma radiation.
Contact :
 Sh. Milind Kumbhare,
Manager, Microbiology, RPP
 Radiation Processing Plant, Vashi
BRIT/BARC VASHI COMPLEX, Sector-20 Vashi, Navi Mumbai-400703.
 (022)02227887405