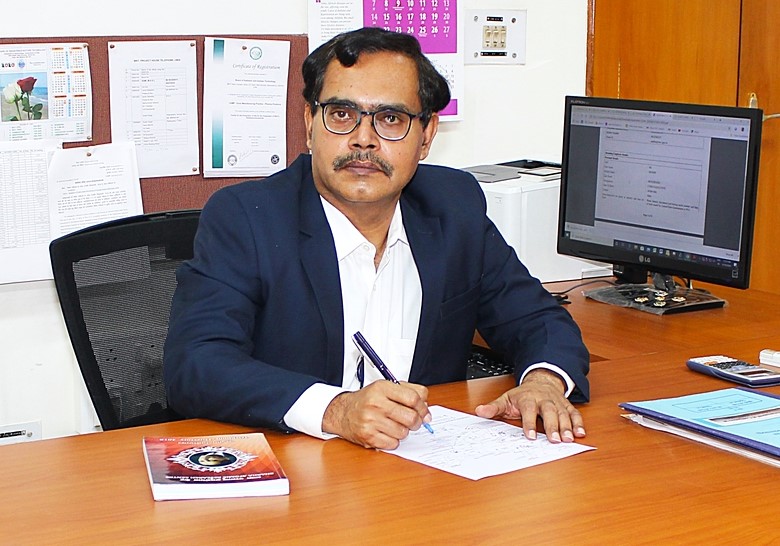 Shri Pradip Mukherjee
A New Year, A New Start and Miles to Go……….
Wish You a Successful and Glorious New Year 2022!
2021 was one of those years which took all of us on a roller coaster ride. However, against all odds BRIT ended the year on a resounding note by making great strides in various applications of isotope technology for medical, scientific and industrial use and also improving customer satisfaction by introducing a robust and reliable logistic system, "BRIT at door steps". This IT enabled cloud based professional logistic service was initiated in July, 2021 and it ensures door delivery of BRIT's products offering attractive features such as cloud based real time tracking of consignments and seamless integration with the BRIT e-portal which has proved to be a boon, especially for customers located in remote areas.
BRIT has been wholeheartedly dedicated to the Nuclear Medicine fraternity and has been working to deliver high quality, effective and low-cost radiopharmaceuticals to improve the lives of countless patients located all over the country. .
Cyclone 30 (Kolkata) has been providing affordable PET radiopharmaceuticals, especially for Eastern India region and these include Na[18F]F - a PET imaging agent for Bone. Cyclotron produced 68Ga-Gallium Chloride - to be used for preparation of 68Ga-PSMA-11 (for Prostate Cancer Diagnosis) and 68Ga-DOTATATE (for Breast Cancer and Neuroendocrine Tumor Diagnosis) - and 201Tl-Thallous Chloride for Myocardial Perfusion and Parathyroid Imaging have successfully completed clinical trials and received very favorable response from the users. Commercial launching of the products is expected very soon..
BRIT also launched two radiopharmaceuticals - 90Yttrium-hydroxyapatite (90Y-HA) and 177Lutetium-hydroxyapatite (177Lu-HA) - from Radiopharmaceuticals Division (BARC) for the management of joint-related disorders. These radiopharmaceuticals serve as effective and economical alternatives to the imported 90Y-radiopharmaceuticals. HYNIC-RGD cold kits (for Technetium-99m) - used for early diagnosis of malignant tumors - were also introduced during this period and GMP compliant, state of the art facilities for production of 177Lu-radiopharmaceuticals and 131I-mIBG injection were inaugurated by Director (BARC) at BRIT, Vashi Complex.
.BRIT continues to work tirelessly in the application of Radiation Technology for the industry. Demand from the leading heavy engineering industry have been accomplished with the introduction of indigenously developed Co-60 based Industrial Radiography Device "COCAM-120": a Radiography camera with unique hybrid shielding arrangement comprising of depleted uranium, tungsten alloy. Light weight, compact design and a very competitive price will definitely be expected to fulfil the desire of the Indian Industry. Another indigenously developed Remotely Operated Tungsten shielded Exposure Device (ROTEX-I), an industrial radiography device using Ir-192 radioisotope has been also introduced this year. These two unique contributions of BRIT add to the country's Atmanirbhar Bharat Abhiyaan.
BRIT continued its foray into exports and a significant quantum (1.35 MCi) of Co-60 irradiator sources were exported to Sri Lanka, Malaysia and Vietnam. BRIT has also conceptualized Mobile Food Irradiator (MFI), a Category-II, batch type irradiator which can be extended to small districts at remote locations and is designed to irradiate low dose food products.
Commissioning of fission-based 99Mo Production Facility (FMP) was successfully initiated and has reached an advanced stage and final production trials will commence in the first quarter of this year.
2021 marked India's 75th year of independence and various outreach programmes / lectures were organized online as part of the Azadi ka Amrut Mahotsav celebration as well as the regular Continuing Education Programme. These enhanced commitments of BRIT to expand the knowledge base of its employees / customers and operate in a safe and responsible manner with respect to their health, and also the safety of the community continued throughout the taxing COVID pandemic period too.
BRIT's service satisfaction banks on the expectations and appreciations of its customers over the last 30 years and this has been enhanced by the unstinted support rendered by BRIT Regional Centres and an excellent logistic with the customer care network. BRIT continues to expand its diverse portfolio to make available reliable products that benefit our citizens as it embarks on an exciting and enriching beginning of its fourth decade of existence.
Thank you and Jai Hind!
Shri. Pradip Mukherjee, Outstanding Scientist and Chief Executive, BRIT is an alumnus of Indian Institute of Engineering Science and Technology (IIEST), West Bengal (formerly known as Bengal Engineering College) from where he obtained his Mechanical Engineering degree in 1987. He joined BARC after graduating from 31st batch of BARC Training School in 1988. He is specialized in the field of the design construction and commissioning of Research Reactor.
Contact:
 Shri. Pradip Mukherjee
 Outstanding Scientist Chief Executive
 Board of Radiation and Isotope Technology
  Sector 20 BRIT/BARC Vashi Complex Navi Mumbai - 400703
 022-27840000/022-27887888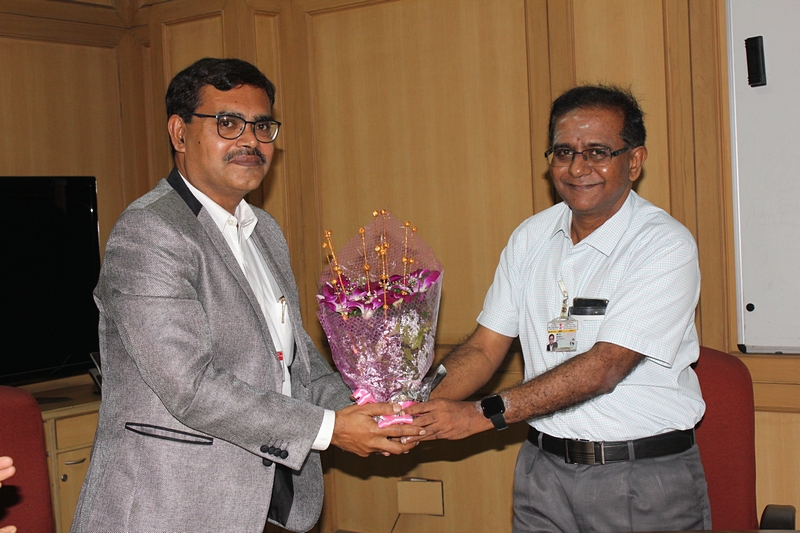 Shri Pradip Mukherjee taking charge as Chief Executive, BRIT